When: Monday nights 6:30 pm – 8:30 pm and Tuesday mornings at 9:00 am
(Scheduled dates for studies are posted below)
Calvary Chapel Queen Creek's Women's Ministry is designed first and foremost to encourage growth in your personal relationship with Jesus Christ. We offer Bible studies, events, and fellowship with the Word of God as our centerpiece. We gather that we may build up one another in the faith, hold each other accountable, pray for one another's needs, and encourage each other to continue steadfastly in our Christian walk. It is our desire that you will not only be blessed but be a blessing. Our vision is to give women practical application of the Word of God, that we can go back into our homes, workplaces, and community and be an influence for Christ!
Childcare is available on Monday nights for single moms or women whose husband's may work evenings.
Keeping the Secrets of Jesus by Denise Glenn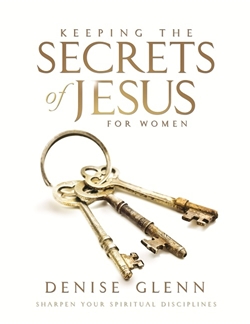 This video series will take us through the spiritual disciplines found in Matthew 6.  Please join us as we learn and grow together in God's Word applying these truths to our lives.
In His love,
Claudia 
January 8-9              Introduction / DVD lesson #1
January 22-23         Group time / DVD lesson #2
February 5-6           Group time / DVD lesson #3
February 19-20       Group time / DVD lesson #4
March 12-13            Group time / DVD lesson #5
March 26-27            Group time / DVD lesson #6
April 9-10                 Group time / Testimonies
April 20-22               Ladies Retreat- Prescott, AZ
Proverbs 31:30  Charm is deceitful and beauty is passing but a woman who fears the Lord, she shall be praised. NKJ
Calvary Chapel Queen Creek
Ladies Retreat 2018
You are invited to join us for our 11th Annual Ladies Retreat. The retreat is open to all ladies high school age and older. We look forward to sharing this wonderful time in God's Word, worship, prayer and fellowship with you.
If you are interested in going to the retreat, please download, print and complete the form. You may scan and email the form to Claudia at claudia.remington@ccofqc.org or drop it in the agape box in the sanctuary.
I was born in Cleveland, Ohio in 1960 into a strong Catholic family full of much love. My parents were married for 40 years when the Lord took my dad home. My mom joined him close to 30 years later. We moved to Arizona as a family in 1974, and in 1978, as a senior in high school, I met Jim. We were married three years later at 21. We left the Catholic church at age 25 and have been involved with Calvary Chapels since. We have four adult children and a great bunch of grandchildren who brighten our days. There is so much more to the story: prodigal children, breast cancer and many joys etc. Through it all, the Lord has and always will remain faithful.
Service Times
Wednesday: 6:30 pm
Sunday: 9:00 am & 11:00 am
© 2018 Calvary Chapel of Queen Creek.  |  19248 E San Tan Blvd, Queen Creek, AZ US 85142